Northern Wisconsin Hunting Guide Services
Black Bear, Wolf, Whitetail Deer, Bobcat, Coyote & Grouse Guide
Clam Lake Guide & Taxidermy is located uniquely in Southern Ashland County in the Heart of The Chequamegon National Forest surrounding Clam Lake, Wisconsin.
Clam Lake Guide & Taxidermy provides guided Whitetail Deer and Black Bear hunts in Wisconsin Black Bear (Zone A). Guided predator hunts for Wolf, Bobcat and Coyotes. and bird hunts for Ruffed Grouse.
Owner/Operator Randy Search, a proven mentor and Master Guide offers over 30 years assisting successful hunters harvest that Wisconsin Trophy Black Bear and the "Grey Ghost" the Bobcat. Knowing thousands of acres of backwoods and some of the most remote terrain located in the Deep Woods and Forests of the Chequamegon-Nicolet National Forest IS our Advantage. We want to make your hunt a successful one!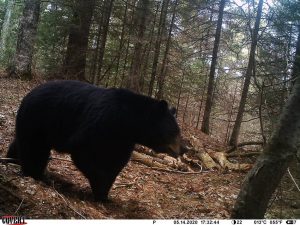 Clam Lake Guide & Taxidermy advocates and Mentors Youth hunters, encourages novice hunters who are wanting to get more familiar with Big Woods Hunting and We Honor our Veterans…Please ask about our special offers.
"My experience with Randy and Clam Lake Guide & Taxidermy was a Blast!!!"
GUIDED HUNTS
BLACK BEARS – 5 day Fully Guided Guided Black Bear Hunt with dogs or over bait, in Wisconsin in Zone A.
WOLF – Guided gray wolf hunts in Northern Wisconsin
WHITETAIL DEER – 5 day Fully Guided Whitetail Deer Hunt
BOBCAT – 5 day Fully Guided Northern Wisconsin Bobcat hunt in Northern Wisconsin.
COYOTES – Guided Northern Wisconsin coyote hunts.
RUFFED GROUSE – Ruffed grouse guided hunts in some of Wisconsin's finest upland game bird habitat in the Chequamegon National Forest.
"Randy, thanks for an awesome hunt!"
Weekly Hunt Rates
Black Bear Hunt, Wisconsin Zone A
5 day fully guided hunt with dogs with lodging – $2300
5 day fully guided hunt over bait with lodging – $2000
Wolf Hunt
Fully guided wolf hunt – $1500
Whitetail Deer Hunt
5 day fully guided hunt – $1200
Bobcat Hunt
5 day hunt with dogs – $1500
Coyote Hunt

1 Day Hunt – $300 per day
Grouse Hunt

1 Hunter – $250 per day
Group Hunt (Up to 3 Hunters) – $375 per day
"It was one of the most exciting hunts I was ever on!"
Out of State (Nonresident) Wisconsin Hunting Licenses
Bear application — $4.50 (Deadline December 10th)
Bear Class A kill tag — $251
Bobcat application — $6
Furbearer kill tag — $160
Small game – 5 day — $55
Small game – 1 year — $85
Please Note: 50% Deposit is required at the time of signing Contract and is non-refundable. Final payment 30 days prior to scheduled hunt. No Cancellations; Hunts shall be Rescheduled upon receipt of final payment. A Rescheduled hunt is at the discretion of Clam Lake Guide & Taxidermy LLC.
Clam Lake Area Lodging
One of the first questions clients ask when they book with Clam Lake Guide & Taxidermy is where should I stay?
We are excited to provide comfortable accommodations at Pine Point Lodge on Cabin on the beautiful shores of Lower Clam Lake!
Other Clam Lake accommodations can be found below:
Clam Lake Vacation Rentals
Phone: (715) 638-0484
Web Site: www.clamlakewi.com
Clam Lake Junction Hotel
Phone: (715) 794-2781
Web Site: www.clamlakejunction.com

Elkhorn Lodge
Phone: (715) 794-2378
Web Site: www.elkhornlodgeclamlake.com
Pine Point Rentals
Phone: (952) 220-1047
Web Site: www.pinepointwi.com
Trailhead Lodge
Phone: 651-252-8792
Web Site: www.clamlakewi.com/lodging/trailhead-lodge/
Clam Lake Guide & Taxidermy is excited to be working with Ryanoffthegrid@gmail.com to provide more hunts for our Purple Heart recipients.